MBA - Rankings, Admissions and Fees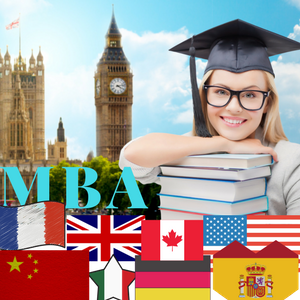 List of Top 10 Business schools - worldwide
Harvard Business School
Stanford
Wharton
Kellogg - Northwestern
Booth School of Business
London Business School
IESE - Spain
MIT Sloan
Columbia
INSEAD
University of California at Berkeley Haas
Top MBA Schools
Below is list of Top MBA programs - country list
MBA Test Prep : GMAT, GRE, TOEFL
Which Exam to give? GRE or GMAT. As of now GMAT is more popular for MBA and number one choice from students. There are colleges which do not require GMAT or GRE. How to prepare for GMAT/GRE, Practice tests etc. TOEFL/IELTS might be required for non-native English speakers.
Highlights from some top schools
Average age (for top schools) is around ~27-29 yrs and average work experience is ~4-6 years.
20% admitted students at Stern (NYU) receive merit scholarships(most of them are full or half tuition waiver).
Around 40% students at MIT Sloan are international students.
Duke: GMAT score range (80%) 640-750.
Wharton: GMAT score range(80%) 700-770.
Oxford Said: Average GMAT 690. 95% students are international.
Cambridge: Average GMAT 690. Expectation: GPA>3.3 or top 25% of class. TOEFL 110 or 7.5 in IELTS.