Last Updated: March 18, 2021
GRE (Graduate Record Examination)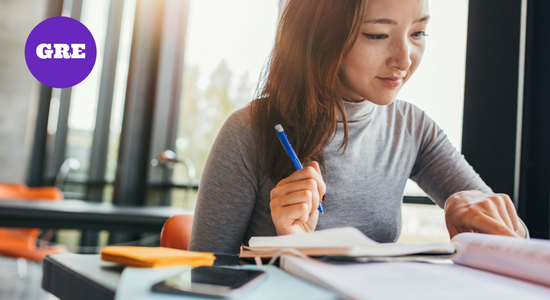 GRE - General Test at home due to COVID-19.
NOTE:
Most of the universities in the U.S. are
waiving off their GRE requirements
for the 2020-21 academic year due to the Corona pandemic.
What is GRE?
Graduate Record Examination is a test used to compare an applicant's skills in verbal reasoning, quantitative reasoning, and critical thinking which are critical for success at the graduate level. GRE (General Test) is widely accepted worldwide (160+ countries) and in thousands of graduate and business schools/Universities.
The test is available as a computer-based test, as a paper-based test, and also provides a test at home option for candidates who find traveling unsafe during the pandemic. The test scores will be available for 5 years in all after the test date and can be used by the student to send additional reports whenever necessary for a nominal fee.
About the GRE Test
GRE General Test consists of three sections- Verbal Reasoning, Quantitative Reasoning, and Analytical Writing.
Each section has 2 sub-sections where the Verbal and Quantitative sub-sections differ on the level of difficulty and the Analytical Writing section has 2 different tasks.
Some graduate programs may require GRE subject score.
There are GRE Subject Tests which measure the student's excellence in a particular subject. The subjects offered by GRE are Biology, Chemistry, Literature in English, Mathematics, Physics, and Psychology.
After completing the exam, students can send their scores to four universities even before availing of the Scoreselect option.
Do I need to take GRE?
Candidates planning to join a graduate degree (Masters or Ph.D.) might need to take GRE, especially if they are planning to study in the US. GRE is now accepted by most colleges for MBA programs and some Law programs are also accepting GRE scores in lieu of LSAT scores. For some colleges/programs it's an optional test but all the same, it is highly recommended for international students.
Achieving a decent GRE score is not mandatory for applying to colleges most of the time. But having the score report increases the chances of getting admission all the same since it shows the dedication of the student and also acts like an extra marker through which they can assess the abilities of the student in question.
GRE Score Validity
GRE scores are valid for five years.
Candidates can take the GRE revised General Test (computer-based) only once every 21 days, and no more than five times within any continuous rolling 12-month period. This applies even if they have canceled their scores on a test taken previously. Candidates who choose to only take the paper-based GRE revised General Test may take it as often as it is offered.
GRE Test Structure
Total Computer Based Test (CBT) time is up to 3 hours 45 minutes, not including the research section. The directions at the beginning of each section specify the total number of questions in the section and the time allowed for the section. There are three main sections each with two sub-sections. The six sections in all have a 10-minute break following the third section.
| Section | Number of Questions | Time |
| --- | --- | --- |
| Analytical Writing | 1 Issue Task* | 30 minutes |
| Analytical Writing | 1 Argument Task* | 30 minutes |
| Verbal (2 sections) | Approximately 20 questions per section | 30 minutes for each section |
| Quantitative (2 sections) | Approximately 20 questions per section | ~35 minutes for each section |
| Unscored** | Varies | Varies |
| Research*** | Varies | Varies |
* Analytical section is always the first section and the other sections (verbal and quant.) can be in any order.
* For the Issue task, two
essay topics
are presented and the candidates can choose any one. The Argument task does not present a choice of topics; instead, one topic is given for which the answer has to be written.
** An unidentified unscored section may be included and may appear in any order after the Analytical Writing section. It is not counted as part of the final score.
*** An identified research section that is not scored may be included, and it is always at the end of the test.
Comparing New Score to the Old Score
The scoring of GRE changed in the year 2011 from a scale of 200-800 to 130-170 for the Verbal Reasoning and Quantitative Reasoning Sections. The holistic scale between 0 and 6 for Analytical Writing has not been changed over time and remains the same.
Since the validity of a GRE score is for 5 years only, the old scores no longer apply in any way. But candidates often show interest in learning what their old score would have been and this presents the need for a conversion chart that helps students identify the same.
This
GRE Score Scale
will help students compare old and new scores by themselves.
Which Programs Accept GRE Scores?
GRE is widely accepted for graduate programs (for many majors). For professional degree courses it is popular in Engineering, Science, Stats, Mathematics etc. The GRE General Test is now accepted by more than 500 business schools worldwide including top schools like Harvard, MIT, Wharton, INSEAD for their MBA programs. In the last four years, the number of business schools accepting the GRE General Test for MBA admissions has quadrupled. Law Schools also accept the GRE Score report.
GRE Scoring - How is GRE scored?
| | |
| --- | --- |
| Section | Scores Reported |
| Verbal Reasoning | 130 - 170 |
| Quantitative Reasoning | 130 - 170 |
| Analytical Writing | 0 - 6 |
Are Calculators Allowed in GRE Test?
A basic calculator (non-scientific) is available for GRE Quantitative section. This calculator will be available on the screen during the computer-based test.
Can one go back and forth or edit answers and come back to review the answers?
Yes, one can move around within a section and edit answers. There is an option of reviewing a question and moving on to answer other questions. Candidates can mark the questions they are not sure about and come back to them when they are ready.
What is the Price for GRE Test?
The cost of applying for most of the countries is $205. It may vary from $205-$230 depending on the country.
GRE FAQs
Candidates who have taken GRE multiple times can send their scores from any test date either their current score or a score from the previous exam. There will be no mention of other scores in the score report.
Maximum Score for the Verbal and Quantitative sections are 170 each.
Analytical writing score will be reported on a 0-6 score scale, in half-point increments.
GRE is required by universities in North America (the USA and Canada).
Most Universities require General GRE for admission to MS and Ph.D. in Engineering Sciences. Many Business schools now accept GRE scores for admission to the MBA program.
Generally for Engineering Students score like 160 (q)+ 148 (v) + 4 (a) is considered a good grade for admission for universities ranked between 40 to 90.
For all Engineering Students GRE Quant. is most important for best results GRE Quantitative must be well above 160 and GRE Verbal above 150.
A high GRE score can considerably improve the chances of getting admission. TOEFL score must be well above 92. GPA is another major factor in admission.
Top 50 ranked Universities may require GRE>318(162+,156+,>4/6) and TOEFL>95.
There is no penalty for wrong answers.
One can review, move forward and edit/change answers, etc. within a section.