Education in Canada, Masters, MBA, MSc, MS...
Why masters degree from Canada?
Canada offers high quality, research-oriented and affordable education which is recognized worldwide. Canada is a safe, secure, healthy, multicultural and welcoming environment for international students. It's regarded as one of the best countries to live. Around 350,000+ international students enrolled in Canadian universities/colleges/schools in 2020. Many Canadian universities are ranked in top 100 worldwide.
Among international students 34% are from China, 14% are from India, 6% each from France and South Korea, 3% from Nigeria.
Ontario and British Columbia are top provinces attracting more than 65% of international students.
Toronto is largest city in Canada followed by Montreal and Vancouver.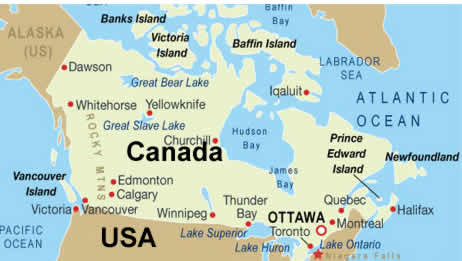 Most Valuable Degrees
Business Management, Petroleum/Chemical Engineering, Finance, Pharmacy, Geoscience are most valuable degrees in Canada.
How to apply for MS in Canada?
To get admission in Canadian University, you will need to have TOEFL/IELTS/MELAB scores (for students from non-English speaking countries). Some universities and certain courses in top universities might require GRE scores. Getting a Canadian student visa is easier as compared to US/UK visa. The cost of education is less (if compared to the USA). You get extra credits for your residency if you have a Canadian degree!
Admission in Canadian Universities - Admission Requirements
Universities of Canada are world class institutions and are cheaper than american Universities. The deadlines of most engineering programs are between December and February (Note: they have earlier deadline as compared to US universities). Admissions in Canadian university is relatively easier, but getting in top 3-4 Universities is tough.
TOEFL
/IELTS and engineering GPA are most important for admission.
GRE
is also important
TOEFL
or
IELTS
score is quite important.
Most top Universities prefer TOEFL iBT >90-100
The International English Language Testing System (IELTS): 7.5
The Michigan English Language Assessment Battery (MELAB): 90 with 80 minimum per section including a minimum score of 3 in the speaking test component.
There are similar requirements at Canada's French-language universities. International students are advised to contact the Canadian university where they wish to study about one year in advance.
Cost of Study - Tuition and Fees
Tuition and fees at a Canadian university are less as compared to US universities. The Commonwealth scholarship is one source of funding for Canadian universities at the post-graduate level (for Masters in Canada) but is restricted to a very limited number of students of exceedingly high intellectual promise who live in Commonwealth countries. Tuition and fees for international undergraduate studies (for one year) might vary from CDN 15,000 to 50,000 (most courses will range around 25,000. Medicine and related courses are expensive). For international graduate students Medicine, MBA programs might be around 50,0000 but most courses will be around CDN 16,000.
Canada: Tuition & Fees
- Find Tuition and fees (MS, BS, MBA) for various Canadian Universities.
Following are Best Universities of Canada
University of Toronto (CS) - Admission requirements
Paper-based: 580
Test of Written English (TWE): 4.0
Internet-based: 93 with 22 in Writing and Speaking
OR
Michigan English Language Assessment Battery (MELAB)
Minimum score of 85 required
OR
International English Language Testing System (IELTS)
Minimum score of 7.0 required
GRE is not required but Non Canadian Students are encouraged to submit GRE General and/or GRE subject scores (in Mathematics, CS etc)
University of Waterloo - Admission requirements
For admissions to MS in ECE program you need 78% in BS degree
GRE is not required
TOEFL :80, IELTS 6.5, MELAB 80