Last Updated: August 28, 2021
Studying at a High School Abroad
Students who plan on going abroad for their education often start with a college degree. But sometimes, students wish to get an early start and move abroad to join high school programs. This is done to make their entry into colleges a bit more streamlined. Starting to study abroad at a young age helps shape their careers by making them familiar with the educational and career prospects of the country in ways they would not have known had they stayed back in their country.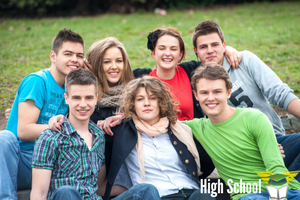 Candidates who start their education abroad at a high school level will have the opportunity of learning new languages, being part of a new culture, and meeting new people. But moving in at a high school level can be more challenging for candidates when compared with the alternative. Study abroad programs often allow these students to focus on a particular language or subject if they want to. Or they will have the option of following the regular curriculum and benefitting from the same. A few of the most important things to know while choosing a study abroad high school program have been listed out on this page.
Benefits of Studying High School Abroad
The benefits of studying abroad at a high school level are similar to that of moving to the country for any level of education. But at the same time, it adds up to a lot more in the academic record of the candidate which will help them even in their future job prospects. Candidates who join at a high school level will have better chances of gaining their desired college admission when compared to candidates who apply for higher education from their own country. The factors leading to this added advantage lies in the extra knowledge the candidate will have about the curriculum and requirements of colleges when compared to students who have never been part of the system.
It also lets candidates have a lesser burden of applying for colleges since they will not have to covert their transcripts and take examinations like TOEFL or IELTS. Since most of the study abroad programs are exchange programs, candidates will have a brief opportunity of learning new languages and mingling with people from other cultures that will improve their overall academic performance. It will also help them shape new perspectives. It has the added advantage of being part of the candidate's resume that will stay as a benefit throughout their work life. Candidates who are part of such school programs will be able to receive scholarships and grants due to their familiarity with the educational system in place. High school programs are often easier to get into when compared to college admissions which also provides candidates with a better chance of going abroad.
Types of High School Programs Abroad
There are different types of high school programs that international students can choose from. The differences between these programs often lie in the duration of each of the courses. While some programs will require the candidate to stay in a dorm, others might let them stay with a host or provide other forms of accommodation. This depends on the kind of high school the student chooses. They will be able to choose either a homestay program or go to a public school. They will even have the option of being an exchange student at a private school.
Candidates will be able to follow a general high school curriculum if they wish to or they will have the option of specializing in a particular subject. The subjects that candidates will be able to focus extensively on without following a general high school curriculum are-
English
History
Social Science
Science
Mathematics
Computer Science
The types of programs apart from the subject specializations they can take are-
English Language Immersion
College Preparation
Summer Sessions
Creative Arts
Duration of High School Programs Abroad
The duration of high school programs for international students varies according to the type of program the student chooses. The entire duration of the program can range anywhere between one month to one year. But some places also offer programs that can last just as much as a week if the student only requires an overall experience of the whole program.
Cost of a High School Program Abroad
Like most study abroad programs, studying abroad for a high school program is extremely expensive. This is in comparison to the rate students would have to pay in their own countries. The cost of the program will depend on the duration of the program the student has chosen. But even considering the weekly, monthly, or yearly fee a student would have to pay, there would be additional expenses that are not covered in the fee they pay. On average, to do a high school program as an international student, candidates would have to pay a few thousand dollars.
Popular High School Programs Available Abroad
AFS
This program is offered to candidates during the duration of the school year and also in the summer. AFS offers study abroad opportunities in over 45 countries around the world with over 150 high school study abroad options. They have programs that have the duration of a year, a semester, and even that of 1-8 weeks. AFS also has programs for candidates who are above the age of 18.
They provide accommodation through host families and they focus on programs relating to community service, language immersion, and cultural immersion.
ECI
This program is offered only during the summer and is provided for only two countries in all. They offer summer immersion programs to the countries of France and Spain and focuses on the language acquisition of students who choose the program. The Spain programs have a duration of 2-6 weeks where the student will be staying in San Sebastian. The France program is also for a duration of 2-6 weeks in all where the student will be staying with a host family in the French Alps.
The fee for the France program and Spain program is estimated to be around $1,395 for a week without adding the flight fare. Candidates will be able to choose the dates according to their schedules.
Quest Exchange
This program is offered both in the academic year and in the summer for aspiring candidates. They have programs that are spread across 20 different countries including New Zealand and South Korea. The duration of these courses ranges from 3 months to 10 months in all where candidates will be able to stay with a host family or in boarding.
High School Programs for American Students Available Abroad
The US Department of State lets American high school students be part of exchange programs. The students are often chosen based on merit and the duration of the programs ranges from 3 weeks to a year.
Congress-Bundestag Youth Exchange
This program allows candidates to live in Germany and is a cultural and language immersion program to be more specific. Students will be able to live in Germany with a host family and attend a high school in the country for a duration of their choice. They will be able to take language lessons after their arrival and also meet with US and German government representatives as part of the program.
Kennedy-Lugar Youth Exchange and Study Abroad
This program allows American high school students to live in and learn about select countries with a significant Muslim population. The countries that are involved in the program include Africa, Asia, Turkey, and the Balkans. Students will be able to stay with a host family and attend a local high school
National Security Language Initiative for Youth
This program is also a cultural and language immersion program where students will be able to learn languages like Arabic, Mandarin, Turkish, Indonesian, Hindi, etc. by going to the respective country and staying there for a while. The programs offered by this organization and the host locations are subject to change from time to time. The students are chosen on a merit basis and will also be eligible for scholarships under the program.
Advantages of Study Abroad High School Programs
The advantages of study abroad high school programs lie in the external factors that it brings out. Candidates will be able to gain new experiences and skills while studying abroad. They will also have the opportunity of meeting new people and learning about different cultures. The other advantages include learning-
Learning Self-Sufficiency
High school students, given their age, are often held under supervision from their teachers and school system. But while going to a new country for a high school program, they will have to be more responsible for their actions and education. While they may not be required to fend for themselves by earning or sustaining themselves like they would have to in college, they will still have to focus on their academics without much external pressure. This will help them grow as a person and also let them survive better while they enter a college space.
Being Part of Multi-Cultural Environments
Being in a new place allows them to know more about various cultures and languages and it also increases their proficiency in the local languages that can be very helpful in the long term and also helps in communicating with the local citizens of a particular country. The United States has diverse cultures, and people who come from all around the world for both international and domestic business, and being in such a great environment helps candidates shape their careers better.
Being Responsible
Candidates who travel abroad for a high school program will be placed away from direct parental supervision. They will be expected to be disciplined and in charge of themselves and their future while doing the program. Due to this exposure, candidates will find college life to be comparatively easier.