Ranking of Engineering Universities in UK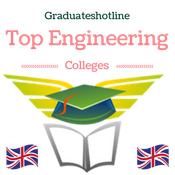 Below is list of top 10 Engineering colleges in UK
For Admission to Top programs you might need AAA overall (A in Maths and Physics and Preferred Subject).
Admission requirements for Imperial College London (ECE)
For MSc degree (Masters degree) ECE department requires UK 1st class (or equivalent) honors degree in Electrical Engineering or a related subject. They have a list of equivalent grades for first-class for each country. The interview is not required. For ME (Electrical and Electronic) Integrated course admission to acceptance ratio is 7:1. There are several MEng. programs with one year with industry / or an year abroad.
Engineering at University of Leeds
School of Computing
offers 12 months MSc degrees in Cloud Computing, Data Analytics. GRE is not required. Min. ELTS score is 6.5.
BS in Civil Engineering
More than 88% percent students get good positions within six months of graduation in companies like AECOM, Arup, Atkins,Jacobs Engineering etc.
Admission to postgraduate(MSc) program in University of Warwick: Engineering
Second class honours degree (or equivalent) in an Engineering related subject from a good University.
Two academic references from your current/last institution.
For non English speakers IELTS 6.5; TOEFL 92 (iBT). Pre-sessional language courses are available for applicants who narrowly miss these requirements.
University College London
Computer Science
Excellent research oriented program, Some of the CS majors are Financial Engineering, Machine Learning, Robotics and Computation. CS program was ranked #1 (for research work) by Research Excellence Framework(UK).
University of Oxford
For admissions (MSc.) you need - Reference letters, research proposal, TOEFL(>110)/IELTS(>7.5)
For Undergraduate course you need high grades in GSCE, A - Level or Advanced Diploma in Engineering, You might have to take "Physics Aptitude Test", you have to provide personal statement and you will be called for 2 interviews.
Tuition fees
(Residents/EU): Full-time ~£12,000, international ~£26,000
University of Bradford
Some MSc programs in CS are - postgraduate (MSc) programs in 'Big Data Science and Technology', 'Cyber Security'. Duration (full-time) is 1 year and tuition fees is &pound8,160 (EU and UK), £ 18,940 (for international students). Both these programs have high demand in the industry. You need to have IELTS score of 6.0+ and 2:2 in CS/Engineering or related Computer Science degree.